"Discover the ultimate guide how to hit a pickleball harder with our expert tips and techniques. Learn how to hit pickleball harder and elevate your game.
Introduction
Pickleball, a thrilling and dynamic sport, blends elements from tennis, badminton, and ping pong. Mastering striking the ball with greater power is vital for excelling in this game. You can gain a competitive advantage over your opponents by honing this ability and racking extra points on the scoreboard.
This comprehensive guide will explore techniques, tips, and strategies to hit a pickleball harder. Whether you're just starting and seeking to enhance your game or an adept player striving to elevate your skills, this article offers invaluable insights to boost your power shots.
1. how to hit a Pickleball Harder and why its important
Hitting a pickleball harder increases your shots' speed and gives you more depth and control. Exerting pressure on your opponents, compelling them to react swiftly, and hampering their ability to return the ball, hitting more challenging shots effectively, is a skill that can transform you into a formidable pickleball player. Mastering this art grants you a competitive edge on the court.
2. How to Find a Suitable Pickleball Paddle for Hitting Ball Harder
Your paddle holds the potential to influence your game significantly. Generally, a heavier paddle grants you more power when striking the ball, while a lighter one provides better control. The prevalent paddle weight range falls between 7.5 to 8.5 ounces.
If you lack the desired power in your shots, it's worth checking the weight of your paddle. Consider opting for a slightly heavier one, closer to 9 ounces, but be cautious not to go overly serious.
A mere one-ounce difference can profoundly impact your performance, particularly during multiple games. Remember, excessively heavy paddles can lead to arm fatigue. Choose wisely to find the perfect balance for your playing style.
Read More: Is Pickleball Easier Than tennis? explained briefly
3. How Will You Know When To Hit A Pickle Ball Harder or when not 
When you are playing pickleball and want to hit a pickleball and here is a good thumb rule for you 
Firstly, when you find yourself at the kitchen line, and the ball pops up above the net without bouncing at your feet, hitting it with more force is essential.
Secondly, suppose you're positioned deep in the court, away from the kitchen line, and your opponent anticipates your return to be closer to the net. In that case, hitting a more intricate shot is advisable to prevent them from gaining the point.
4. Proper Grip and Stance
To hit a pickleball harder, starting with the proper grip and stance is crucial. The Eastern backhand grip is commonly used in pickleball, allowing for a solid and powerful strike.
Ensure your grip is firm but not too tight, allowing flexibility and wrist movement during the swing. 
Additionally, maintain a balanced and athletic stance, with your feet shoulder-width apart and your knees slightly bent. This foundation will provide stability and generate power from your legs and core.
5. Generate More Power with Your Core
The core plays a vital role in generating power for your pickleball shots. Engage your abdominal and back muscles by rotating your torso during the swing.
As you wind up to hit the ball, rotate your hips and shoulders in the same direction, loading potential energy.
Then, unleash that energy by moving your hips and shoulders forward, transferring power to your arm and racket. By utilizing your core muscles effectively, you can significantly increase the power of your shots.
6. Utilize the Full Swing Motion
A  common mistake beginners make is using only their arms to hit the pickleball. To maximize power, it's essential to utilize the entire swing motion.
Start by bringing your paddle back and positioning it behind your dominant shoulder. 
As you initiate the swing, extend your arm fully, using your shoulder, elbow, and wrist in a coordinated motion. Focus on a smooth and fluid movement, allowing optimal power transfer from your body to the paddle.
7. Perfecting the Timing
Timing is crucial when hitting a pickleball harder. Aim to make contact with the ball at the peak of its bounce or slightly after. This timing allows you to generate maximum power and control over your shots.
It may take practice to develop a feel for the right timing. Still, with experience, you can anticipate and connect precisely with the ball, resulting in powerful and accurate shots.
8. Incorporate Wrist Snap
The wrist snap technique adds extra power and spins to your pickleball shots. As you contact the ball, flick your wrist forward, creating a snapping motion. 
This action adds speed and generates topspin, causing the ball to dip and bounce aggressively on the opponent's side. Practice incorporating the wrist snap into your swings, increasing speed and intensity for improved power shots.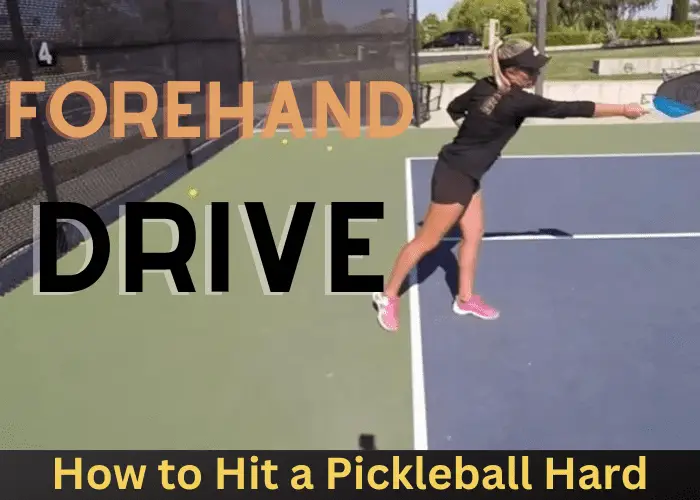 9. Practice Drills for Power Shots
Dedicated practice is essential to develop powerful pickleball shots. Incorporate specific drills into your training routine to enhance your hitting skills. Here are a few exercises to consider:
Wall Bounce: 
Stand before a wall and hit the ball against it, focusing on generating power and accuracy.
Mid-Court Smash:
 Position yourself in the middle of the court and practice hitting powerful smashes, aiming for the opponent's weak spots.
Shadow Swings:
 Perform shadow swings without a ball, focusing on technique and emphasizing using your core and wrist snap.
Progressive Power:
 Start with slower swings and gradually increase the speed and intensity of your shots, building up power and control over time.
By incorporating these drills into your practice sessions, you can improve your power shots and develop the necessary muscle memory for hitting the ball harder.
10. Utilizing Spin for Added Power
Adding spin to your shots can make them even more challenging for your opponents. Utilize topspin or backspin to increase the effectiveness of your power shots. 
Topspin shots create a forward rotation, allowing the ball to dive downward quickly after crossing the net. 
Backspin shots, on the other hand, produce a backward process, causing the ball to bounce lower and slower. Experiment with different types of spin and practice controlling the trajectory to keep your opponents off balance.
11. Optimizing Your Footwork
Effective footwork is often overlooked but is crucial in hitting a pickleball harder. Position yourself correctly to ensure you are balanced and in optimal hitting. Anticipate the ball's trajectory and move your feet accordingly, getting into the correct position early.
 Using proper footwork, you can effectively transfer your body weight and generate more power during your shots.
12. Mental Preparation for Power Shots
Hitting a pickleball harder is not just about physical techniques but also mental preparation. Stay focused and confident when approaching power shots. Visualize successful images in your mind, maintaining a positive mindset.
Relaxation and proper breathing techniques can help you stay calm under pressure and precisely execute your power shots. Remember to trust your training and believe in your ability to hit the ball harder.
13. Equipment Considerations
While technique and skill are essential for hitting a pickleball harder, having the right equipment can also make a difference. Consider the following equipment considerations:
Paddle Selection: 
Choose a paddle that suits your playing style and preferences. Look for a paddle with a more prominent sweet spot and a balance between power and control.
Ball Selection: 
Opt for a pickleball that offers a good balance between durability and playability. Choose balls with a smooth and consistent surface for improved power shots.
Grip Replacement: 
Ensure that your paddle grip is in good condition. Replace it if worn out or slippery to maintain a firm hold and prevent power loss during shots.
Properly selecting and maintaining the right equipment can optimize your performance and enhance your ability to hit a pickleball harder.
14. Avoiding Common Mistakes
To hit a pickleball harder effectively, you must be aware of common mistakes that can hinder your progress. Avoid the following errors:
Gripping Too Tight:
 A tight grip restricts wrist movement and reduces power. Maintain a firm but relaxed grip for optimal shot execution.
Overreliance on Arm:
 Power shots involve your entire body, including your legs, core, and wrist. Avoid relying solely on your arm to hit the ball harder.
Swinging Too Early or Late: 
Timing is crucial for power shots. Practice and develop a sense of timing to connect with the ball at the right moment.
Lack of Follow-Through: 
Finish your swing with a complete follow-through, extending your arm fully and maintaining control. Neglecting the follow-through can result in reduced power and accuracy.
By being mindful of these common mistakes and actively working to correct them, you can refine your technique and achieve more powerful shots.
15. Analyzing Your Opponent's Weaknesses
To hit a pickleball harder strategically:
Analyze your opponent's weaknesses.
Observe their positioning, footwork, and shot selection to identify areas where you can exploit and apply more power.
Aim for their weaker side or target shots to places where they have difficulty returning the ball forcefully.
By understanding your opponent's weaknesses, you can tailor your shots and maximize your chances of hitting a pickleball harder effectively.
Conclusion
Mastering the art of hitting a pickleball harder is a valuable skill that can elevate your game to new heights. By implementing the techniques, tips, and strategies outlined in this article, you can enhance your power shots and dominate the pickleball court.
Remember to focus on proper grip and stance, utilize your core, employ the complete swing motion, and practice consistently. Analyze your opponent's weaknesses, optimize your footwork, and stay mentally prepared.
 Is hitting the ball harder always better in pickleball?

In pickleball, having the ability to hit the ball with greater force can offer several advantages.  It applies pressure on your opponents and provides you with increased control over the game. Nevertheless, it is vital to find a balance between power and precision. At times, executing a well-placed shot with finesse and accuracy can equally effectively achieve your desired outcomes.
How can I increase the speed of my pickleball shots?

To increase the speed of your pickleball shots:
Make it a priority to focus on generating power from your legs and core.
Incorporate the complete swing motion, wrist snap, and proper timing.
Practice drills designed to enhance your power shots and gradually increase the intensity and speed of your swings.
 What is the role of spin in hitting a pickleball harder?

Spin adds complexity and unpredictability to your shots, making them more challenging for your opponents. Utilize topspin or backspin to vary the trajectory and bounce of the ball. Experiment with different types of spin to add power and deception to your shots.
Can I hit a pickleball harder without sacrificing control?

Yes, it is possible to hit a pickleball harder without sacrificing control. Focus on technique and precision, ensuring proper form and timing. Practice regularly to develop muscle memory and control over your power shots. Gradually increase the intensity while maintaining accuracy.
Does physical strength play a significant role in hitting a pickleball harder?
While physical strength can contribute to hitting a pickleball harder, technique and timing are more critical factors. Using proper body mechanics and efficient swing techniques, even players with less physical strength can generate powerful shots.
How long does it take to hit a pickleball harder consistently?
The time it takes to hit a pickleball harder consistently varies from player to player. Consistent practice and dedication are essential. You can gradually improve your power shots by incorporating the techniques and strategies outlined in this article into your training routine.